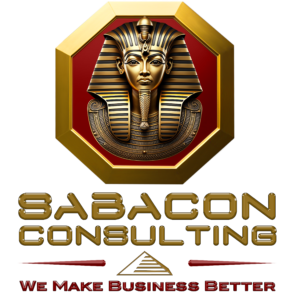 Thank you for considering Sabacon Consulting for your strategic needs.  At Sabacon Consulting, we specialize in designing comprehensive strategies and strategic planning that drive success in today's dynamic business environment.  Our team of experienced consultants is dedicated to partnering with organizations like yours to develop tailored solutions that maximize growth and profitability.
With a deep understanding of industry trends and market dynamics, we help clients establish operational excellence by optimizing processes, streamlining operations, documenting standard operating procedures, and implementing innovative technologies.  Operational efficiency is a key driver of competitive advantage, and our experts work closely with your team to identify areas for improvement and implement sustainable solutions.
At Sabacon Consulting, we are committed to instilling organizational discipline within your company.  We recognize the importance of aligning your organization's leaders, structure, and processes to achieve your long-term strategy.  Our consultants leverage their expertise in performance management and industry best practices to guide you in developing a strong organizational foundation that fosters productivity, accountability, and innovation.
We welcome the opportunity to discuss how our consulting services can assist your organization in achieving its strategic goals.  Please don't hesitate to contact us using the contact information provided below.  Our team is ready to collaborate with you and deliver your desired results.